事業紹介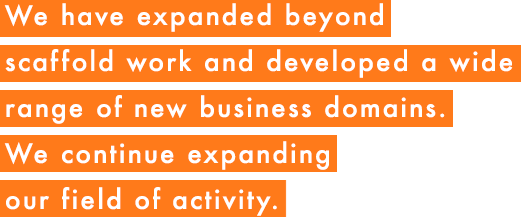 YAGUMI. Corporation got its start in the scaffold business. Today, we operate restaurant franchises, a signage business, and much more. We adapt to the changing needs of the times and actively offer the world and local society what it seeks. We also offer our personnel more and wider opportunities to shine as we evolve as a company bringing greater value.

We assist clients in creating blueprints and making strength calculations for scaffolds and support work built using tight wedge binding scaffold links. There are few dedicated scaffold companies nationwide with close to forty scaffold experts on staff. We are operating at the highest scope and level of the industry and continue growing. Our sales area is quite large, encompassing not only the Tokai region. We can head out to visit you in person no matter where you may be in Japan. Our construction skills are backed by high safety and technical prowess, and we encourage you to try our services to see the difference.



Copyright © 2019 YAGUMI All Rights Reserved.